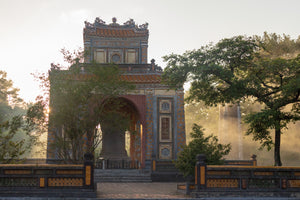 The Golden Dust.
This oil is the last original Vietnamese kinam distillation. Our record shows that a local distiller distilled this oil in 1770 for king Gia Long of Vietnam. Even though we don't have the full details of the making process and all the specifications, the lab test, and the constituents can tell us a lot about this oil (the lab test and Certification of this oil are also available under the lab testing page).
This oil is a true agarwood style kinam that is very thick, strong, and long-lasting.
It is called golden dust because it is distilled by mixing the highest quality dust (residue) from wood intended for jewelry or decoration. This dust usually gets distinguished from the other kind of wood for distillation for its light golden color, thus the name golden dust oil.
Just like its brother, the "Shogun of Japan," there is so much to say about this oil and not much to say as well. This oil is one of the oils that can only be appreciated and understood by experience, not by descriptions and words.
The first nose
Woody, heavy and leathery with a strong presence and powerful aroma, the notes are very complex and sophisticated in this oil, and you won't be able to recognize it until after a few minutes, and this also got a lot to do with the age and the extremely high quality of the oil.
The second nose
After a few minutes, this oil will open. A world of wonders will show up. Dark chocolate with incense covered with honey and tobacco and leather in its most natural and clean scent, powerful indeed but very pleasant. This phase is very intrusive and nonapologetic, an oil for someone who knows the unknowns. This oil is for someone who really cares about the way they smell and at the same time does not care at all about the other smells as this will total and entirely terminate all other perfumes and colognes in the room. If other perfumes are the beasts, this is the beast's killer.
The final nose
The final nose is calm and lingering, very unique and ancient in a way. Settle but intense—Woody and aromatic with an accord of rocks and earthy woody scent. Grass and light soil, very grounding and earth in a pleasant and masculine way, making it oil adored by men and women.
The price is 1 ML in V-Vial / included with the oil an extra empty 3 ML Perfumist bottle.
Feel free to check the oil (lab test & Certification).