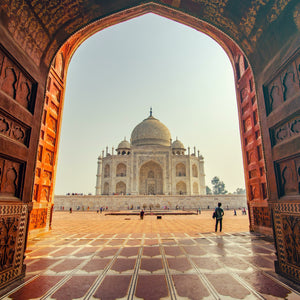 The Perfumist
Red sandal - Pure Mysore Indian sandalwood oil / extremely limited 100 years old batch
Sale price Price $250.00 Regular price
Two years ago we offered sandalwood oil, when we sold it we said this is a limited and extremely small batch, it was all sold out in few months and until this day we get asked almost daily "when will the Perfumist offer sandalwood oil again?" Well, the reason we didn't offer it because we couldn't find something equal or better than our first Indian Mysore distillation. So for the whole last year we have tried over 100 different distillations, we tried pure, CO2 extracted, steam distilled, north Indian, South India, Indian mixed with Australian, trust me when I say we have tried it all but non matched the standard of the Perfumist, our master Perfumist Mr. Ali Attar was looking for specific notes, notes that only exist in the super old natural red trees in the Mysore region.
We gave up on distillations and we just opened our private cabinet and pulled a 100 years old red Mysore sandalwood oil (from the restricted collection) that was distilled for a Maharaja from the oldest and heaviest wild sandalwood trees in the Mysore region.
 No need to say, no Perfumist, company, or distillery will be able to make anything even remotely close to this oil. Consider this another statement from the house of The Perfumist.
This specific oil has been described as one of the most attractive and lustful oils, ironically it is the choice of the saints and yogis in India and many other countries, it is believed that this oil has the power of changing the mind and elevating the spirit putting someone in a level of total clarity and concentration.
Prized to be the rarest and highest quality sandalwood oil in the world, this is not only totally extinct but even in the hand and vaults of the top collectors in the world, this is a rarity.  
The first nose
Woody in a silky way with distinctly rich and sweet notes, you can tell that this oil been aged for a long time and it is heavy, and it may take few seconds for it to breath and open
The second nose
This is where the magic happens after few moments the oil will open to one of the most wonderful sandalwood experiences that you have ever had and there is no way to describe it if you don't smell it and experience it yourself. The layer of the deep wood the hints of vanilla and the sweet brown sugar in the background will prove with no doubt that even the purest and singular oils can be very complex and complicated in the accords and notes and that true simplicity is the ultimate sophistication.
The final nose
Fading down like a beautiful memory, it's there but not totally and even though most of the powerful accord are not present the sweetness of the wood and the light skin like tones will make this oil a "sniff me more challenge" we had many people from our private clients who had the chance of trying this oil before it was offered to the public and almost all of them said that they can't stop smelling their hands or arms after applying the oil on it, yes this is addictive in a way and unique in a very special way.
Category:
 Extinct – Rarest – Cannot be found anymore. These are the rarest raw materials on the planet, museum-quality oils, those oils cannot be found, replicated, or re-generated. There are such very limited amounts that they get sold by the milligram. The people who work and deal with those oils around the world can be counted on one hand. The majority of the time, these oils will be restricted to royalties and billionaires. The lowest age of these oils starts from 50 years old going up to 500 years old. Anyone who holds one of these oils holds an experience that is exclusive to one human being on this planet. Only 0.0001 percent of the population will have the privilege of experiencing the power of this olfactory. 
 Very limited – Extremely Rare – Extremely hard to find. These are oils that it's simply a matter of time, and by that we mean few years, before it goes to the previous category (extinct). These are oils that most probably were a symbol of luxury and opulence throughout the ages and very few privileged people in history had the chance to enjoy them. Only 0.001 percent of the population will have the privilege of experiencing the power of this olfactory.
 Limited – Rare – Hard to find. This is the lowest of the categories we have but it's still considered by many as a pinnacle to express class, luxury, and taste in its most aromatic form. These are very limited oils, very hard to make and very few have access to them. Those oils are not extinct, and we hope they won't be anytime soon, but they are simply rare because of the raw material they are extracted from, the process, and the quality in the making and distillation. Again, these are all 100% natural oils, very concentrated and very powerful, and they will dominate the comparison with any alcohol-based perfume or cologne in every single aspect, every single time. By maximum measurement, only 0.01 percent of the population will have the privilege of experiencing the power of this olfactory. 
 Element: 
 Water – Air – Fire – Earth 
 Spirit:
 Flower/fruity – Oud/woody – Musk/animalistic – Ambergris/aromatic 
 Longevity: 
 Light: 3 to 5 hours 
 Middle: 5 to 7 hours 
 Long: 7 to 10 hours 
 Distance:
 Intimate: 1 to 3 feet 
 Personal: 3 to 5 feet 
 Aggressive: 5 to 10 feet
 This oil: Extinct, Earth, Oud/woody, Long, Aggressive
Feel free to check out
Our Perfumes page
About us page
FAQ's page
Since every order is fully fulfilled by hand just like it was done 300 years ago. Bottling, packaging, sealing, signing and wrapping are all done by hand for every single order. We don't have prefilled bottles or prepacked products additionally; every order gets passed and signed by our master perfumist personally and for that reason kindly allow us 7 to 10 working days to prepare your order. This is for all orders.
If you need the product or item faster than that, please contact us first before making the order.