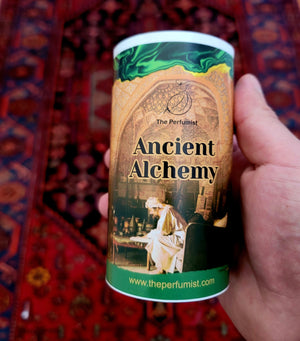 The wait is finally over!
We have carefully built our legacy for the past three centuries. And for 300 years, you have asked again and again: When will you make a perfume that we can spray?
We take our craft and the art of perfumery extremely seriously. So, this was quite a challenge! Even though to many, making oil or Attar is much more challenging than making an alcohol-based spray, we excelled in the oils that we made for over 300 years. We've now reached beyond our comfort zone with alcohol-based sprays.
It was not only a challenge but a huge responsibility and expectation for us, derived from a lineage of six generations of natural master perfumists. And now, you are the one who will break the rules! The old saying is true: You have the master the rules to be able to break them.
Since we first posted about working on this a little over a year ago, it has been 12 months of consistent research, work, trials, and mixing for us. This wasn't easy, cheap, or fast. Luckily, with our OCD and access and knowledge of the most intricate natural materials in the world of perfumery, it wasn't painful –we quite enjoyed it.
Our work started with these questions: what it will be? Between thousands of notes and different structures and accords, what will the mainstream of this creation be?
We decided to let the ancient masters answer for us. We used the most intoxicating and powerful aphrodisiacs known to humans; and after taking everything that is animalistic, pungent, and heavy, we made sure that the majority of the bases are universally accepted around the world and don't carry or represent a specific type or taste. Then, we started to search for the highest-quality materials around the world. This was not an easy Google search, but rather an order from every place followed by breaking down the materials, maturing and mixing them, and seeing how they interact. Needless to say, this process was extremely demanding, and we refused any shortcuts as this had to be done perfectly.
After 12 months of nonstop dedication and hard work, here is the outcome. Ancient Alchemy is the name made by Mr. Ali Attar, the owner and Master Perfumist of the house of The Perfumist. This is a perfume (Parfum) that has about 40% fragrance, which means this has about ten times the amount of oil or fragrance that a regular Eau de Toilette designer perfume or cologne has.
Of the 40% oil we place in each bottle, half is from natural sources and of the highest quality. This makes this masterpiece not only highly potent but also extremely natural! Today, rarely any designer perfume or mass-produced cologne uses any natural materials. The majority are using cheap and sometimes harmful low-quality materials to cut costs.
Ancient Alchemy is made with top notes of almonds, honey, and tobacco. It carries heart notes of strawberry, cherry, cinnamon, heliotrope, coconut, brown sugar, and a strong base note of guaiac wood, benzoin, vanilla, Peru Balsam, and musk. All of these are working in magnificent harmony in this amazing elixir of scent.
Opening - First Nose 
The top notes are the grand opening of this new smell. The first nose is fruity, aromatic, clean, and tobacco-like. This is from the intoxication effect of the vanilla. The opening is vivid and sharp, which can be perfectly used day or night. The opening is very signature-like and once you smell it, you won't forget it!
Developing - Middle Nose
After a few minutes, the real magic will come out and the beauty of this masterpiece develops in full. The scent is familiar yet unique since most of the materials are universally accepted and used throughout the world across many cultures. The scent will feel familiar, beautiful, and non-challenging; but at the same time, there is this deep passion and lust of an old hunger or craving manifesting in the cinnamon, heliotrope, and coconut. It is sweet but serious and mysterious, aromatic but not soap-like, sugary but not candy-like, natural and vibrating in a way that tells others you are not here to play around, you are dictating the rules. The triple distillation with the most exact maximum measurement of the scent projection the normal human brain can translate guarantees this result. Try it and see yourself!
Closing - Final Nose
The closing notes are woody and tobacco-like, perfect for night or day, hot or cold. The base notes finish balanced and well-rounded like a racetrack. If you don't know how to drive at the limit, this scent is not for you! The power of the guaiac wood and the ancient benzoin give the closing an almost holy aura, a story of a sinner with the heart of a saint. The pure natural Peru Balsam mixed with the Himalayan musk adds a leathery but irresistible closure to the scent. Have you ever seen someone walk away so gracefully, it seemed as if time stopped, and you knew you will regret not talking to them? Imagine that everyone around you feels that way after you walked by and left nothing but a magical memory of a scent that can awaken even those who are in their deepest sleep.
What's those beads inside the bottle?
Prayer beads have been always a meditation tool and a symbol of belief just like perfumes itself, three beads each selected from the prayers beads of a master from three meditation masters, representing the past the present, and the future based on the old alchemy principles those focalized wood beads, not only used a symbolic meaning as old alchemist believed that infusing natural mixes with good and positive energy make the mixture carry this energy and what's better than a tool that has been used for many years by the master who meditated on love, forgiveness, exception, and freedom. The essence which we work very hard to show and present to the world through our work and art.
When we asked the Turkish dervish masters and explained what we are doing they agreed without hesitation after they tried and smelled our work, granting them with our perfume and a simple donation they were very happy, the energy and smile on their faces told a story that the words can't tell, and we want to share this love and happiness with you.
Technically It's not only the symbolic meaning of the beads but having a highly dense and concentrated oil-based perfume requires it to be shaken or stirred sometime specially if it is sitting for a long time (weeks) and the weight of the beads will help in that.
Finally looking at it is just beautiful knowing that someone went and made those beds from a focalized wood and strung it with a thread by hand and a meditation master used it for years to bring thoughts of love and peace to the world, and we hand places each one of those carefully in a bottle guaranteeing that every bottle was filled by hand with the ultimate attention and dedication as it was done hundreds of years ago. This is not just a perfume this is a symbol and a reminder that this is a tremendously beautiful world we live in we just need to see it and appreciate it more.
Long-lasting scent 10-plus hours
projection of 5 feet or more
Guaranteed silage to kill every other beast you've ever owned
First batch (soldout) Limited to 50 bottles only
Second batch limited to 200 bottles only.
Limited to 50 ml per order, one order per household
Exclusive offer from the house of The Perfumist
This is Ancient Alchemy