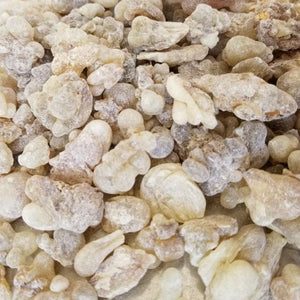 The Perfumist
Hojary frankincense incense / light green organic handpicked / top grade
13 sold. Only 17 remain.
Sale price Price $50.00 Regular price
The king of all Frankincense, the Royal Hojari (100 GRAMS / 3.5 OZ)
Again, the house of the perfumist make another statement by offering one of the highest quality incenses in the world for a price that we strongly double that anyone other than the perfumist can offer it.
This hand-selected frankincense is a grade above any other grade and considered by many as one of the best incenses/raw materials in the world. Handpicked from the most excellent pieces from the highest grade's frankincense, this is the top 10% of Frankincense, this is the finest and rarest of all Frankincense ever.
Frankincense has been used for over 5,000 years by King, Queens, and Royalty, it's considered as one of the best, most generous and precious gifts to give to someone. In almost all religions, Frankincense has been considered as a holy and a royal symbol; in Judaism, Christianity, Islam, even other religions like Zoroastrian and Buddhism. This specific kind is harvested only once a year and it's getting harder to get and sell due to many reasons of is supply and demand.
It is brought from the top of the oldest trees thus making it one of the rarest and hardest kinds to find. Unlike many other companies and sellers, we didn't use third parties or middlemen, and that's one of the reasons why we are able to sell at this price. We went to Oman, Dhofar region and we used our expertise in addition to local experts to select the best trees and best quality Frankincense, it was all hand collected, then we handpicked the best of it and that is what we are offering here.
Frankincense is one of best smelling natural materials in the world a done of the oldest and most precious kinds of natural incense It is believed to have many medical and beneficial effects. It is stated in many books that this been one of the best and most precious gifts used by royalties in ancient times. mentioned in the Bible, and in many other religious texts and scripts. It never perishes, doesn't get old, doesn't need special storage conditions, can be used in so many ways (burning as incense, with water to cleans the body, chewing gum to clean and whiten the teeth, beauty product as it makes one of the best skin and face products in the world, mixed with other herbs and oils as ancient or alternative medicine and remedies, as a natural anti-bacterial material, in perfumery, etc..).
in Christianity the word frankincense appears 17 times in the King James Bible.
In Islam, it's been mentioned in many places that prophet Mohammed (peace be upon him) used to love it and used nice smelling oils and materials which is what Muslim people call "tateeb" and "taharah". Mentioned and used in Judaism it is considered one of the sacred materials that are used in temples.
I was personally surprised to smell frankincense in Buddhist and Hindu temples and meditation centers around the world. As for the benefits of Frankincense, there are way too many, I leave it up to you to research and read about it.
The Nose, lovely and uplifting deep sharp citrusy, flowery base. It contains a large quantity of α-Pinene (sometimes over 50%) which is found in citruses and oils of coniferous plants, as well as many other natural oils and possesses a fresh and sweet earthy/piney smell. Aside from pinene, Frankincense contains a very close to its structure Camphene, as well as Sabinene, p-Cymene, Thujene, Limonene, and other terpenes forming a specific turpentine-like odor.
Here I would like to state some simple facts
1- This is the highest quality of Frankincense.
2- This was collected by us personally for the best trees in the Oman Dhofar region.
3- We guarantee that this is from organic renewable trees, we didn't go through the work or the fees for certifying it so we would be able to provide it to you for this price
4- We offer the best price guarantee and we doubt that you can find this quality for this price anywhere else. If you did, we won't only match 100% we will beat the price.
5- one of our main goals in listing and selling this material is to bring attention to the natural perfumery materials and the importance and value of it, additionally we deal directly with farmers and support an organic renewable approach.
How much to use?
So if we say a 100 gram of this Frankincense is used as incense, not more than 2 grams will be enough to full a large size room with amazing aroma and this is mainly due to the potency and quality of this frankincense, if used once a week which will consistently keeps that amazing aroma in the whole place the 100 gram will last you a whole year. Now when you compare that with other kinds of incense or scented candles (which usually are not pure or 100% natural) you will realize the true value of this Frankincense and appreciate the true gifts of nature and natural perfumery.
Since every order is fully fulfilled by hand just like it was done 300 years ago. Bottling, packaging, sealing, signing and wrapping are all done by hand for every single order. We don't have prefilled bottles or prepacked products additionally; every order gets passed and signed by our master perfumist personally and for that reason kindly allow us 7 to 10 working days to prepare your order. This is for all orders.
If you need the product or item faster than that, please contact us first before making the order.