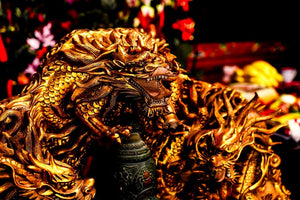 The Extravagant sampler
A mix of some of the rarest and most exotic natural oils in the world, this sampler and the oils it contains have been made with one single purpose, and that is to create something different than the regular oil or attar style scent, once you try those oil a new world will open a world that many people are oblivious about and yet once you crossed to the other side you can't and won't come back because once you smell and try those oil only then you will know what you have been missing, those oils has been made by our 6th generation master Perfumist Mr. Ali Attar, with the knowledge and experience of more than 300 years combined, and the ability to truly and genuinely say no expense was spared, no dime was held in making those oil.
Enjoy those oils carefully and responsibly as you will notice that the power of chemistry, and the understanding of the behavioral psychology that those oils are made with, will strongly affect people, and no I'm not talking about compliments.
Unlike the other samplers, we offered and sold this one is consisting of 11 different oils that have not been released or listed yet, this sampler was made with one thing in mind and that is the power to awaken emotions and feelings, no need to say the quality is unmatched by anything in the market and the purity is guaranteed by three times your money back.
Those oils or this sampler will take you on a journey, through the world of scent in one-to-one/11 oils or 11 months or 11 aspect of nature, one month is at least empty because there is a scent in nature and the world that can't be replicated this is our confession and acknowledgment that even with the most sophisticated tools and methods and all the knowledge and experience, we still can't be as good of a Perfumist as mother nature.
The oils will take you gradually from light to dark and from sweet to pungent, the complexity of each oil is a world by itself and the power each oil has will be felt from the very first sniff, do yourself a favor and don't miss this one.
The oils in this sampler:
1- Oud Taifi
A masterpiece of rose consisting of Taifi rose (Rosa Damascena from the region of Taif in Saudi Arabia) and Tuberose (Polianthes tuberosa) with midnight queen (moonlight cactus) mixed with a very light and settle oud oil were the rose composition on all its levels is obvious and prominent making this the ultimate oil for the rose lovers, sweet rosy and very clean.
2- Jasmin oud
An exotic mix of one of the most expensive oils to produce from a flower, Jasmine with an elegant oud and a hint of Gardenia to contain the power of the Jasmine with elegance and silkiness that will be experienced from the very first sniff. Exotic, lingering, and warm.
3- Malt oud
Never attempted before amalgamation between oud and malt notes. A masterpiece that you have to try to fully appreciate, a bomb of honey, caramel, vanilla, and brown sugar with hints of leather and single malts in the background this one is defiantly for the night!
4- Tabac oud
A magical integration between oud and tobacco, light sweet green leaves with old pip tobacco, and hints of wood and incense with light and sweet oud make this the ultimate smoker scent and the scent for those who enjoy a good tobacco profile in their perfumes.
5- Amber oud
A mix between ambergris, Baltic amber, and copal with light clean oud, this is probably the most ambary oil you will ever smell with the different amber notes and accord visible in the composition, a very hard thing to do especially with natural oils, and when this dry down you are in for an aromatic experience that will break the rules of what is possible amber wise!
6- Cocoa Oud 
For those who love chocolate, look no further than this, a powerful yet elegant jungle of Cocoa with coffee, balsam, and sweet herbs, this is the ultimate seducer and the oils that will leave others asking what this? it smells delicious. Chocolate, Cocoa, balsam, and dark fruits this oil is the jungle
7- Saffron
We called it "saffron" because it is simple just saffron, nothing else. Made authentically in one of the oldest recipes and from one of the highest quality saffron in the world from Morocco, this is the ultimate saffron lover oil, thick and potent, very vibrant, and eternally lasting, we used scentless carrier oils and powering oil to make it last and project more without changing or compromising the oil or it's natural profile and scent, you love saffron, you are in for a party with this one and yes this is natural so it will stain white clothes, so please be aware of that.
8- Sweet ancient musk
A mix of 100 different rose and herb oil with 3 levels of musk out of 7 different kinds, matured for over 3 years and the musk that was used in it comes directly from our house inherited from 3 generations, this is the ultimate authentic attar when it comes to musk, made in the same style that old Arab and Persian attars made their oils this one is mastery by itself and you don't have to take my word for it, try it on both hands in the same time and after few hours one hand will smell slightly different than the other, as natural musk is alive and will interact with your body, temperature and air and sun around you, so yes this will evolve and keep evolving most amazingly.
9- Smoken oud
This is one of the sweetest and smokiest oud oils you will ever smell or experience in your life, distilled from one of the highest quality harvesting fields in Malaysian this one is over 5 years in harvesting, compared to the current market this is at least double the age and the quality of anything else you will find or get other than the wild which is about extinct now. Even though scent wise it is almost impossible to know if this was from harvested or wildwood because of the quality and the strict control on the distillation is so high.
10- Malaysian triple king wild
If you want to know or recognize the difference, or at least try to, between a harvested and pure wild this is the line, this is pure 100% wild oud from an extremely high-quality wood from Malaysia, this is oud triple king that we have 2 or 3 distillations of and it's almost sold-out and one of the most complimented oud oil we have produced through the years if you are an oud lover this is a must. Dark heavy and powerful.
11- Hindi #1
Unlike other kinds of oud oils, the Indian (Hindi in Arabic) oud oils are very distinguished for their heavy and leathery pungent profile, nothing heavier and more pungent than the southern Nagaland oud oil, with age it becomes even more powerful and vibrant as if the oils are growing wiser and more mature, this is a 50-year oil, pure, wild (yes wild) Hindi oud from then region of south Nagaland in India. We call this the warrior oud, because this is not something you were anywhere actually it is something you rarely wear anywhere, this is for those who wear their oils because they like their oils and care less about what others think or like, this is the wild side of oud, the pungent, the animalistic and the battlefield oud, this is the old and the original and this is an oil that didn't except the power of the rule of time, so it stayed itself unchanged and unadopted to modern for hundreds of years, and maybe that's why time made it's a judgment on it and it's almost gone from the world, but not yet as you will have a chance to try and experience this beast and yes use it with caution and keep it tamed.
You will receive the sampler with 11 oils each in a single vial in the amount of 0.25ML or more which is more than enough to experience and wear on the skin multiple times. This sampler is a limited time offer and the quantity is limited as well so please don't wait.
Feel free to subscribe to our mailing list to stay in touch with all the news, products, and updates.
Feel free to check out our articles about musk and many other subjects on the journal page
Feel free to learn more about The Perfumist and our history on the about us page
Feel free to check out our (frequently asked questions) on the FAQ page
Feel free to get in touch or contact us through our contact us page
Have a wonderful olfactory day
www.theperfumist.com
Since every order is fully fulfilled by hand just like it was done 300 years ago. Bottling, packaging, sealing, signing, and wrapping are all done by hand for every single order. We don't have prefilled bottles or prepacked products additionally; every order gets passed and signed by our master Perfumist personally and for that reason kindly allow us 5 to 7 days to prepare your order. This is for all orders.
If you need the product or item faster than that, please contact us first before making the order.
 www.theperfumist.com