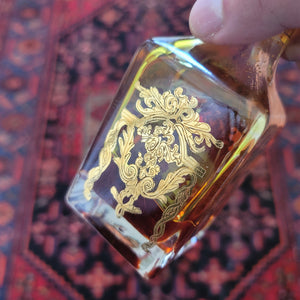 The Perfumist
Royal Saffron Oil- Pure Distillation of the best Saffron
Sale price Price $100.00 Regular price
We called it "Royal saffron" because it is simple just saffron, nothing else. Made authentically in one of the oldest recipes and from one of the highest quality saffron in the world from Spain and Morocco, this is the ultimate saffron lover oil, thick and potent, very vibrant, and eternally lasting, we used scentless carrier oils and powering oil to make it last and project more without changing or compromising the oil or it's natural profile and scent, you love saffron, you are in for a party with this one and yes this is natural so it will stain white clothes, so please be aware of that.
One of the most expensive and intricate flowers in the world, can't be harvested without the trained human hand and is considered by many as the hardest and trickiest materials to work with, this is the saffron flower so experience this magic and olfactory experience even for once in your life.

This Royal saffron oil is distilled from the highest quality Spanish and Moroccan saffron flowers, this is the best saffron oil you will smell in your life. Made masterfully by our house owner and master Perfumist Mr. Ali Attar this is not only wearable in a delicious way but attractive and seductive, with light hints of cardamom, Rose, and Jasmine this will leave a long and strong lasting impression!
First nose
Rosy, powerful and medicinal, clean and very vibrant. Hints of patchouli and honey in the back. The accords are edible scent and clean a synergy or herbal and roses waiting to be opened.
The second nose
After a few minutes, this is the magic of saffron, the magic of the east and the ceremonial tea drinking habits in the desert, simple and natural but very powerful and lasting, this is saffron in its most powerful and purest form, if you don't like Rosey herbal notes this is definitely not for you if you like Rosey herbal clean, pure, natural scents your journey is over this is the treasure.
The final/closing nose
Fading in the background hot sand and like cherry with winds of coffee or cinnamon, cardamon, and glove, fading in the sands of the desert this is the oldest and rarest of all this is the great Sahar this is royal saffron.
Category:
Extinct – Rarest – Cannot be found anymore. These are the rarest raw materials on the planet, museum-quality oils, those oils cannot be found, replicated, or re-generated. There are such very limited amounts that they get sold by the milligram. The people who work and deal with those oils around the world can be counted on one hand.
Very limited – Extremely Rare – Extremely hard to find. These are oils that it's simply a matter of time, and by that, we mean a few years before it goes to the previous category (extinct).
Limited – Rare – Hard to find. This is the lowest of the categories we have but it's still considered by many as a pinnacle to express class, luxury, and taste in its most aromatic form. These are very limited oils, very hard to make and very few have access to them. 
Element: 
Water – Air – Fire – Earth
Spirit:
Flower/fruity – Oud/woody – Musk/animalistic – Ambergris/aromatic  
Longevity:
Light: 3 to 5 hours
Middle: 5 to 7 hours
Long: 7 to 10 hours
Distance:
Intimate: 1 to 3 feet 
Personal: 3 to 5 feet 
Aggressive: 5 to 10 feet
This oil: Very limited, Fire, Flower/fruity, long, personal
(Attention this is pure saffron oil don't use it directly on the clothes as it will permanently color it, just like all oil perfumes apply moderately on the skin preferably on the pulse points).