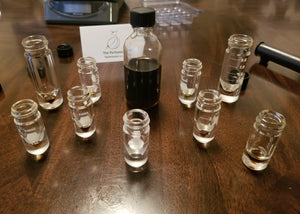 The Perfumist
ROYAL 100 - The rarest Ouds in the world / Celebrating a 100 client
Sale price Price $300.00 Regular price
A mix from some of the rarest oud oils in the world
Royal 100 was made to celebrate 100 clients since the day that we publicly launched.
The combination and the oils in the mixing are the results of over one year of work. harnessed to perfection and mixed in a way that would show the beauty and depth of each oil, royal 100 consists of
1- aged Indian Sundarbans oud oil 
2- wild Cambodian tart
3- extra aged Laos oud oil
4- Siri Lankan Kalawan heavy
5- Chinese HaiNan oud oil
6- wild green Vietnamese Kinam oud oil
7- Thai southern Trang wild oud oil
8- Filipino wild aged Pinoy oud oil
9- first cut of the year Taifi rose oil
The profile: this is a real oud lover oil, it's very dark, deep and powerful
It opens leathery and animalistic after few minutes you get the real magic of the roses and the wood, and the power of Kinam is obvious and present all the way. It is distinctively delicious with deep acidity and flavorful accords. It closes with clear tobacco notes, coffee, and dark chocolate.
This is by far one of the most intoxicating and deliciously smelling ouds I have smelled in my entire life.
The total amount of this oil is 40 ML and it's officially extinct.
Category:
Extinct – Rarest – Cannot be found anymore. These are the rarest raw materials on the planet, museum quality oils, those oils cannot be found, replicated, or re-generated. There are such very limited amounts that they get sold by the milligram. The people who work and deal with those oils around the world can be counted on one hand. The majority of the time, these oils will be restricted to royalties and billionaires. The lowest age of these oils starts from 50 years old going up to 500 years old. Anyone who holds one of these oils holds an experience that is exclusive to one human being on this planet. Only 0.0001 percent of the population will have the privilege of experiencing the power of this olfactory.

Very limited – Extremely Rare – Extremely hard to find. These are oils that it's simply a matter of time, and by that we mean few years, before it goes to the previous category (extinct). These are oils that most probably were a symbol of luxury and opulence throughout the ages and very few privileged people in history had the chance to enjoy them. Only 0.001 percent of the population will have the privilege of experiencing the power of this olfactory.

Limited – Rare – Hard to find. This is the lowest of the categories we have but it's still considered by many as a pinnacle to express class, luxury, and taste in its most aromatic form. These are very limited oils, very hard to make and very few have access to them. Those oils are not extinct, and we really hope they won't be anytime soon, but they are simply rare because of the raw material they are extracted from, the process and the quality in the making and distillation. Again, these are all 100% natural oils, very concentrated and very powerful, and they will dominate the comparison with any alcohol based perfume or cologne in every single aspect, every single time. By maximum measurement, only 0.01 percent of the population will have the privilege of experiencing the power of this olfactory.

Element:
Water – Air – Fire – Earth

Spirit:
Flower/fruity – Oud/woody – Musk/animalistic – Ambergris/aromatic

Longevity:
Light: 3 to 5 hours
Middle: 5 to 7 hours
Long: 7 to 10 hours

Distance:
Intimate: 1 to 3 feet
Personal: 3 to 5 feet
Aggressive: 5 to 10 feet

This oil: Extinct, Earth, Oud/woody, Long, Aggressive
Feel free to check out
Our Perfumes page
About us page
FAQ's page
 www.theperfumist.com