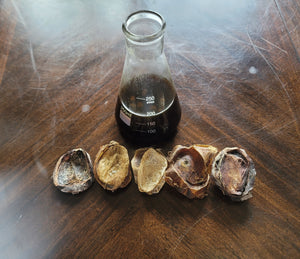 theperfumist
New year Musk - 100 roses with three musk layering
Sale price Price $300.00 Regular price
Every new year we make a special perfume
This new year is no exception, we didn't just make any other perfume or oil, but we made the most complex and sophisticated musk oil ever attempted, not by us only but ever!
The story started when our house owner and master Perfumist Mr. Ali Attar wanted to offer our clients and the world a musk oil that is unlike other musk oils. Don't get me wrong there is nothing wrong with other musk oils, but we wanted to take it a notch up or just make another statement.
From the library of oils and samples we have which contains over 10000 samples and oil, we picked some of the rarest and most special and vibrant roses, 100 different kinds of rose and natural oil went into the mixture. It would be in vain to try to name them all but some of the most notable ones are Gardenia, Jasmine, Taifi rosa Damascena, neroli, lotus, lilies, plum, heritage, Plantier rose, golden celebration rose, sunsprite, Boscobel, crimson glory, ylang-ylang, lemon, patchouli, vetiver, bergamot, sweet orange, myrrh, frankincense, sandalwood oil, cedarwood oil, vanilla.
Then we used raw pure musk on three different layers
1-     120 years old musk pods
2-     Ethically sourced new musk from Musk farm in China in Shaanxi province
3-     Musk paste that is broken down with rose  and sandalwood
This musk layering in a three-dimensional way didn't only make it possible to use more musk in the total mixture, but it olfactorily force the musk to be harnessed in the most pleasant way yet most appealing.
It took over 6 months to make, no need to say the amount of time, effort, and work is tremendous. The materials that made this elixir possibly make an amalgamation that was unprecedented in perfumery. For the simple reason that synthetic perfumes throughout the modern age are chemically impossible to be mixed in this complexity to make a perfume for the reason of petrochemical structure and the common constituents in it. While natural oils and perfumes can accomplish this but throughout the old ages, it was impossible to source 100 different oil from all around the world, in the panicle of the harvesting season for each oil or rose and then mix it three-dimensionally with Musk. Making this one-of-a-kind perfume in the work combines the wisdom and knowledge of ancient perfumery, using the resources and abilities that the modern age and technologies provide.
The opening, first nose
Sweet, fruity, but deep, something wild and strong lingering in the shadows there is a known unknown in this oil. Rose and Japanese cherry blossom are strongly present, resin and Arabic gum, wood and sandal are the structure of this realm.
The middle act, the second nose
After a few minutes on the skin the oil will open up, and it will allow you to enter the magical realm of musk and 100 different roses that made an olfactory orchestra that is so sophisticated and complex in notes yet so simple and natural in accords, yes you will be puzzled by the 100 different kinds of rose and yes this three-dimensional musk will take somewhere else, but it's still just rose and musk, the oldest and most basic of the materials used in an ancient perfumery. 
The closing, the final nose
After many hours 8 to 10 this oil will start transitioning into a fading memory, a transcendent memory the scent is very familiar and close to the skin. There you have the leather, the oldest musk you will ever smell, Himalayan heirloom rose, hints of sandalwood and Arabian rose. You are in the palace of the sultan, sleep safe and happy as the whole world will witness your magnificence, or know its scent.
This oil is: 
1- Limited to pre-existing clients only.
2- limited to one bottle per client only.
3- limited to 3 ml per bottle only. 
This oil: Extinct, Earth, Musk/animalistic, Long, Aggressive
www.theperfumist.com
Since every order is fully fulfilled by hand just like it was done 300 years ago. Bottling, packaging, sealing, signing, and wrapping are all done by hand for every single order. We don't have prefilled bottles or prepacked products additionally; every order gets passed and signed by our master Perfumist personally, additionally, we use a triple sanitary and hygiene procedure to guarantee the safety and well-being of our team and clients and for that reason kindly allow us 7 to 10 days to prepare your order. This is for all orders.
If you need the product or item faster than that, please contact us first before making the order. 
Thank you and have a lovely olfactory experience.