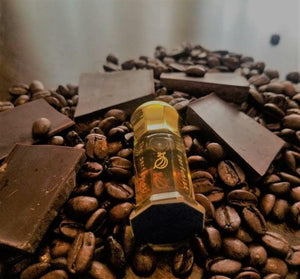 I'mpossible oud, that is the name and we couldn't find a better name to describe it.
Opening with dark chocolate, coffee, and honey this will make any regular designer cologne or perfume smells like cheap air freshener.
After a few minutes you will get the real magic of the wood with clear hints of vanilla, cedarwood, and rose. With one drop on your wrist, I guarantee to you that you won't be able to stop smelling your hand.
Closing with an orchestrated powdery aromatic bonanza of musk and clean leather this will impress those who are not easily impressed and yes this is a conversation opener and a complements magnet.
Just like all-natural pure oil perfumes, this is a unisex perfume, and out of our personal experience, we noticed that this specific one is really loved by ladies which makes it even a better choice for gentlemen.
Masterfully made by our house owner and master perfumist Mr. Ali Attar, this comes with our non-breakable guarantee of purity, authenticity, quality, and exclusivity.
Let me warn you when you smell it for the first time you will doubt that this is an oud oil but let me assure you that this is 100% pure, natural, authentic oud oil. A very special mix of different kinds of ouds including northern Indian, south Indian, Sumatran, Thai Tart, and Maroke mixed in a way that is intended to change the perception and understanding of oud by presenting the most pleasant and smooth elements of oud without any barn, animalistic, pungent notes.