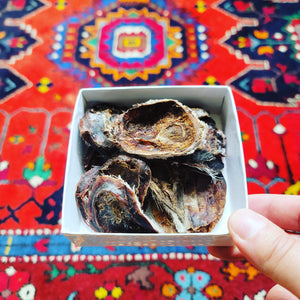 The Perfumist
Ancient Sweet musk oil - 3 levels of musk from 7 different kinds
Sale price Price $100.00 Regular price
Ancient sweet musk – also presented in the extravagant sampler as sweet musk.
A mix of 100 different rose and herb oil with 3 different qualities of musk (consisting of a total of 7 different kinds) which are all the different species of natural deer musk in the world.
Few of those are considered very similar almost identical in scent and some are very different the three categories are from the strongest and most pungent to the lightest and most settled are
1-     Siberian musk, Tibetan white Musk
2-     Kashmiri Musk, Black Nepali Musk
3-     Chinese Anhui Musk, Vietnamese Tonkin Musk, Himalayan alpine Musk
When all those 7 different kinds are layer together, they make a 3-dimensional scent profile, that ranges from the darkest and strongest like the Siberian and the Tibetan white musk to the lightest and most settle like the  Vietnamese Tonkin musk. this masterful layering gives this oil a background of sweet musk that is unprecedented in similar oils and attar,  even the highest and best quality oils in the world will not come remotely close to the sophistication, complexity, and quality of this oil.
This oil was done through maceration, and it was matured for over 3 years and the musk that was used in it comes directly from our house inherited from 3 generations, this is the ultimate authentic attar when it comes to musk, made in the same style that old Arab and Persian Attars made their oils with
This is mastery by itself, and you don't have to take my word for it, try it on both hands at the same time, and after a few hours one hand will smell slightly different than the other, as natural musk is alive and will interact with your body, temperature, air and sun around you, so yes this will evolve and keep evolving most amazingly.
Finally, we made this oil at a price that's not only impossible to be offered by anyone anywhere else, simply because the cost of current musk these days will make this oil by raw materials only about ten times the price but it will complete at price even with many of the synthetic creations that are available in the market, so there is no competition with this one as it will dominate the highest quality natural musk oils in the world in matters of quality and scent and it will beat in price many synthetic mass-produced oils, which makes this oil the ultimate choice for those who want to try real pure musk but don't know where or how to start.
Our promise:
No matter who you are, where you are, or what you do. If this is not one of the best real musk oils that you have ever smelled in your life, we will gladly give you your money back.
Category:
Extinct – Rarest – Cannot be found anymore. These are the rarest raw materials on the planet, museum-quality oils. These oils cannot be found, replicated, or re-generated. There are such very limited amounts that they get sold by the milligram.
Very limited – Extremely Rare – Extremely hard to find. These are oils that it's simply a matter of time, and by that, we mean a few years, before it goes to the previous category (extinct). 
Limited – Rare – Hard to find. This is the lowest of the categories we have but it's still considered by many as a pinnacle to express class, luxury, and taste in its most aromatic form. These are very limited oils, very hard to make and very few have access to them.
Element:
Water – Air – Fire – Earth
Spirit:
Flower/fruity – Oud/woody – Musk/animalistic – Ambergris/aromatic
Longevity:
Light: 3 to 5 hours
Middle: 5 to 7 hours
Long: 7 to 10 hours
Distance:
Intimate: 1 to 3 feet
Personal: 3 to 5 feet
Aggressive: 5 to 10 feet
This oil: Extinct, Earth, Musk/animalistic, Long, Aggressive
We could've easily listed those oils in any of the private perfume auctions, sold them directly to one of our Royal clients, or simply transferred them to a perfume museum for a multiplied price, but we didn't!
Because we want people to know about it, smell it, experienced it so they can love it and appreciate it then and only then we will have a real chance of saving it.
This oil was made over 100 years ago way before the musk deer was endangered the musk was mainly made from picked ground musk and not hunted animals, as this was the main way of collecting it in many regions. This was way before the major companies and the black-market traders over-sourced it.
Many people are oblivious about Musk, and that is the reason why we are doing this we want to shed light on the subject, introduce real musk to people, and bring attention, awareness, and education to the people and community can move and act to protect the musk deer and other important species.
Finally, everything we offer, sell, and make is 100% NO-KILL, ethical, and eco-friendly and we carry that code very sincerely and seriously.
www.theperfumist.com
Since every order is fully fulfilled by hand just like it was done 300 years ago. Bottling, packaging, sealing, signing and wrapping are all done by hand for every single order. We don't have prefilled bottles or prepacked products additionally; every order gets passed and signed by our master perfumist personally and for that reason kindly allow us 7 to 10 working days to prepare your order. This is for all orders.
If you need the product or item faster than that, please contact us first before making the order.