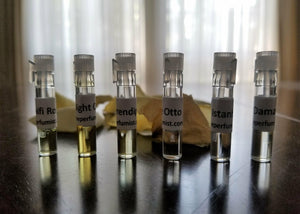 A sampler containing some of purest rose oils, made from the rarest roses in the world
(0.25Ml) or more of each
1- Rose Otto
2- Dmamasci rose
3- Istanbuli rose
4- Serendip rose
5- Taifi rose
6- Night queen rose
All oils are 100% natural, pure, artesian, and exclusive. The amounts are extremely limited and when it's gone it's gone forever.
If you are a natural perfumist, collector, perfume connoisseur, or rose enthusiast. don't miss this.
Feel free to subscribe to our mailing list to stay in touch with all the news, products and updates.
Feel free to check out our articles on the journal page
Feel free to learn more about The Perfumist and our history on the about us page
Feel free to check out our (frequently asked questions) on the FAQ page
Feel free to get in touch or contact us through our contact us page
Have a wonderful olfactorial day
www.theperfumist.com