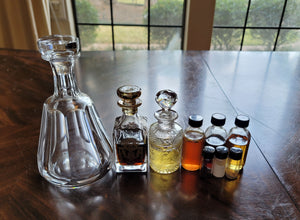 The Perfumist
Perfection #1 - 2021 holidays Attar / extremely limited batch 300ML
Sale price Price $150.00 Regular price
This is perfection#1 
(Limited to pre-existing clients only, limited to one order per client) 
The picture shows from left to right:
 1- Empty Baccarat jar to use for the mix.
 2- One-year-old Vietnamese Musk maceration with rose oil, spices, patchouli, and blue lotus.
 3- First cut Turkish rose oil with ambergris
 4- Siberian Musk maceration, with Mysore sandalwood oil, Yemeni Myrrh, and jasmine
 5- Indian light Assam oud oil with rose, sandalwood, and Desi Gulab
 6- Egyptian Musk original recipe (Baltic amber, Frankincense, the Nile rose, Cedarwood, and bergamot)
Small three bottles with resin are
 1- Nepal Tonkin Musk 1 gram to overlayer the mixture.
 2- Java benzoin pure resin (Royal white benzoin).
 3- Oman ambergris resin 1 gram to overlayer the mixture.
The materials in this picture took over three years to source and make. Each one of those oils was perfected through generations of Perfumists. As a result, the final mixture is guaranteed to be one of the most complex, pleasant, sophisticated, and exclusive natural oils you will ever experience in your life.
 The total amount of this batch is less than 300 ML, which means there will be less than 100 vials total in the world of this oil.
It's our Christmas oil and gift, and it's for preexisting clients only. Perfection #1 is one of the most demanding an