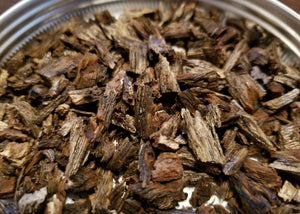 The Perfumist
white kinam - kyara wood incense red soil 100% Vietnamese
5 sold. Only 5 remain.
Sale price Price $100.00 Regular price
100% white, red soil Kinam/Kyara from a (7 plus) years plantation. This is usually promoted or sold by some as wild, as it smells identical to ancient Kinam. It does smell heavenly, indeed. We source the scraps from some of the best-handpicked pieces. We use them to make beads, mini sculptures, and, more. These scraps are from broken pieces that are not sold as a whole. For this reason, their quality high and consistent being the scraps from the same wood.
In other words, if the combined weight and quality of these scraps were all in one piece, it would cost ten times as much. This makes it the perfect opportunity to get authentic Vietnamese Kinam at a lower price.
We are trying to bring this to our followers and fans through the world. It is a life-changing experience, with a unique scent and olfactory understanding.
The Chinese believed that a person needs a few lifetimes of virtue and good deeds to enjoy Kinam. Throughout history, it was so rare that it was as precious than gold, if not more. The Lords of Japan believed that using Kinam before a battle would lead to survival and victory. To this day, Kinam remains one of the rarest raw materials in Chinese and Vedic medicine. It is very sought-after, and the demand for it is always high.
One gram of Kinam can be burned a few times. You can even feel the difference if you only use 0.1 gram! Kinam is usually burned slowly, on low heat. Electrical burners are the best choice, as opposed to charcoal or fire. The optimal heat burning temperature for Kinam is between 70 to 90 degrees. If you have different settings, start from the lowest and increase the heat gradually. We recommend taking a bath before burning Kinam. This will allow you to make the most out of it in a clean environment without other scents or perfumes.
We offer this product at less than 10% of its actual market price. We're putting in our name, and reputation, as well as a guarantee. In fact, you'll receive three times your money back if it is not what we said it is. We promise that you won't find a higher quality Kinam around at this price point anywhere.
This is another perfumist statement!
Specifications:
Grade: Ky-nam
Spices: Kyara Kanankoh
Country: Vietnam
Province: Khanh Hoa
Region: South Central Coast- Asia
Soil: red
Color: white
Wight: 1 gram
Sink ability: simi- sinking
Extraction: 7 years or older Kinam wood plantation
Scent profile: 100% Vietnamese Kinam. Kodo Kyara