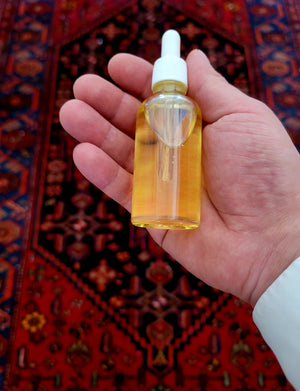 Blue lotus Attar
Extremely limited batch of 50 ML Total. 3ML bottle each order 
Made with 50% pure blue lotus oil or what is also known as sacred lotus (Nelumbo nucifera) one of the rarest and most delicate flowers in the world of perfumery.
25% pure organic Rose Otto oil (Rosa Damascena) from Isparta, Turkey.
25% authentic Egyptian Musk oil, make in the original recipe of a harmonized mix of frankincense, myrrh, cedarwood oil, Nile lilies, patchouli, Ambrette, and white jasmine.
In addition to the fact that all the oils are of the highest quality and purity, the majority of the oils are organic and distilled in extremely limited batches in an OCD standard by choosing the ultimate time, pods, and season.
A sniff of this will open a new world of olfactory magic and experience, this is not just another Attar to wear this is an elixir to experience and save. 
We are not making any money doing this actually we are losing some but we are gaining the privilege and honor of making a statement that is rarely done in the world of perfumery. Dedicating this oil to the amazing people and lovely people who supported us and trusted us, our clients, the extended family of the perfumist, and the people who keep this art alive and strong. Thank you this is our way to show gratitude and appreciation.
Limited to 15 clients only
Limited to 3ML bottle
Limited to one bottle per client
Limited to pre-existing clients
Limited to one batch of 50ml 
Made by Mr. Ali Attar, exclusively in the house of the perfumist.
There is no top, no heart, no base, no first, second or final nose, there is no body as this oil is a spirit. Explained and experienced only by those who have encountered it.