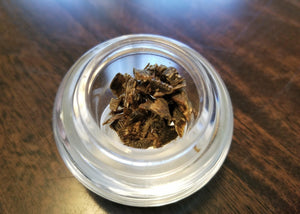 The Perfumist
Chinese Kinam / Kyara incense - wood chips
4 sold. Only 0 remain.
Sale price Price $200.00 Regular price
Chinese Ký-nam or Kinam
1 - Gram 
There are many rare materials in the world Kinam is the rarest. Consider a sacred material by many, Kinam is a whole different level or incense and olfactory experience. There is so much to be said about Kinam and so many stories written about it. One fact is that it used to be paid as one of the highest and most precious tributes by Vietnam to the imperial court of Beijing. The emperor and the royal family exclusively used it. Considered as one of the most precious materials in Chinese medicine with over 100 benefits and use mainly to strengthen the heart and mind and as a solid aphrodisiac material. Throughout the ages, Kinam was always more valuable than gold and more precious than a diamond.
It's an understatement to describe, profile it, it or even talk about it, you really have to try it and experience it to know what it is.
There are few grades and kinds of Kinam white, green, yellow, and black. Mainly categorized based on the scent and smoke profile and not just the color or the look of the wood, there are still incense connoisseurs who dedicate a lifetime to the art and science of incense specially Kinam since it's the crown jewel of the incense art.
Native to jungles of Vietnam Kinam also exists in small amounts in China. This pure 100% Chinese Kinam was collected from scraping and making Kinam beads, bracelets and wood jewelry.
www.theperfumist.com