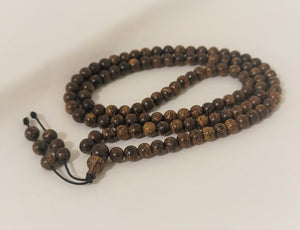 The Perfumist
Wild Super Grade Agarwood Prayer beads - Jewelry piece
Sale price Price $2,000.00 Regular price
An amazing, rare piece of wild simi-sinking, Indonesian agarwood made into a prayer bed. (Even though this piece is not a kinam) but the uniqueness, beauty, and the fact that it's from wild wood, put it at the level of items that true connoisseurs and collectors seek.
The beauty of the wood and the quality of the scent are marvelous, This piece is made by hand and polished to perfection strung with extra light elastic string to give the wood the most comfortable touch and the hands the most gently use.
It can be worn as a necklace, used as prayer beads, or worn as a bracelet, no matter how you choose to wear it, it's a style piece that will show a unique and special taste, guaranteed to grab the attention and get tons of compliments.
kind: Wild/no human interference (NOT from plantations or harvested)
Quality: simi-sinking.
The piece weight is 14 grams.
piece dimensions: mixed
spices: Aquilaria Malaccensis
Year made/acquired: 2018.
For more references and details about kinam feel free to read our blog and articles about kinam, and our Kinam wood and Kinam oil lab tests on our website.