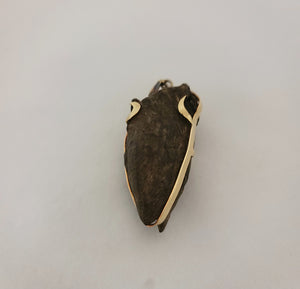 The Perfumist
Fully sinking wild black kinam - jewelry piece
Sale price Price $10,000.00 Regular price
A treasure like no other. A museum-quality piece of wild sinking black kinam. In the shape of a heart, no carving or cutting (the pieces in its fully natural and pure shape)
made and assembled by hand on a 14-carat gold band to make an ultimate pendant/necklace making a very special and unique gift to oneself, or to someone very special, as such pieces are extremely rare and hard to be found. The piece is from the central province of Vietnam.
The piece is cut from an ancient tree that is hundreds of years old, the piece was acquired from a very well-known collector who spent a lifetime in the art. The pieces are kept in their natural shape and style for an ultimate natural and pure statement jewelry piece, the pictures don't give the piece justice you have to see it and hold it by the hand to truly appreciate it.
If you are looking for a unique, special, and extremely sought-after piece of wild Kianm, look no further than this. The aroma is herbal, dark, and earthy with a unique gardenia touch. This piece itself is over 70 years old and the wood is hundreds of years old, and it is fully sinking.
There are a few kinds of kinam, the oldest and the largest is the most sought after for its unique properties the beauty of it when made into jewelry pieces or displays, and the sweet, floral, cool scent when it's burned. Many Asian cultures believe that agarwood is general and Kinam in specific has special and almost magical properties to the body and mind. It was used in the old chines medicine, and until this day it is used to decorate the offices and houses as an important (feng shui) practice.
kinam wood itself is super rare and extremely hard to find, nonetheless a solid piece of kinam like this one. This piece is the case with all other similar pieces/Jewelry acquired directly by our house. We don't only source our pieces from the source and the most reliable and trusted collectors, wood-hunters, and auctions around the world, but each piece has to pass a strict scent (aroma test) and a lab test.
Similar pieces and jewelry of kinam are not only extremely hard to find and require knowledge and testing to authenticate but extremely expensive and rarely ever listed or sold publicly as there are very specific auctions and vendors who source, buy/sell, and deal with such items. By listing those individual items here we are simply trying to give our valuable clients and followers the chance of having such a treasure, tested, and guaranteed for a fraction of the price that it's usually sold for.
kind: Wild/no human interference (NOT from plantations or harvested)
Quality: Fully sinking.
The piece weight is 3 grams.
piece dimensions: mixed
spices: Aquilaria Crassna
sub spices: Pierre ex Lecomte
Year made/acquired: 1950
For more references and details about kinam feel free to read our blog and articles about kinam, and our Kinam wood and Kinam oil lab tests on our website.